HYIPs with SSL with extended validation
Investment plans: 1.5% - 2.5% daily for 20 - 55 business days | 650% after 35 business days | 1500% after 55 business days | 3000% after 55 business days | 6500% after 100 business days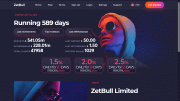 Status: PAYING
Our deposit: $300.00
Payout ratio: 268%
Lifetime: 733 days
Last paid: May 18th, 2021
Minimal spend: $10
Referral bonus: 5%
Withdrawal: Manual
Principal return: Yes, after expiration
Interest charge: Working days
ZetBull Limited is totally legal investment company incorporated in the United Kingdom. Reg. number: #13058616. Office address: 1 Hardman Square, Manchester, England, M3 3EB.
Investment plans: 5% - 10% monthly for 30 - 180 days (1.5% - 4.5% - 12% bonus at end if invest in tether)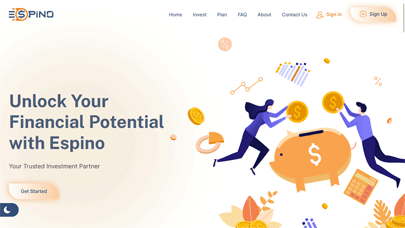 Status: WAITING
Our deposit: $200.00
Payout ratio: 0%
Lifetime: 25 days
Last paid: No payouts yet
Minimal spend: $20
Referral bonus: 0.5-8%
Withdrawal: Manual
Principal return: Yes, after expiration
Interest charge: Calendar days
The Espino investment company started its activity with the aim of paying interest to online investments in June 2021. four highly experienced team in which every team has their expertise in different economic fields to create sustainable profit for users and company. Therefore, with the knowledge of these teams in Espino Company, we distribute the investors' capit...