HYIPs with SSL with extended validation
Investment plans: 3% daily for 50 days...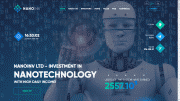 Status: PAYING
Our deposit: $30.00
Payout ratio: 45%
Lifetime: 27 days
Last paid: Dec 6th, 2019
Minimal spend: $10
Referral bonus: 10%*
Withdrawal: Instant
Principal return: Included in earnings
Interest charge: Working days
Description: Investing in nanotechnology is by far one of the types of investment that always generates revenue. NANOINV LTD is engaged in the development, implementation and investment in nanotechnology, which are widely used in modern high-tech products. The main guarantee of investment in nanotechnology is their versatility - today it is difficult to imagine at least one of the spheres of human life wherever nanotechnology is used. This kind of versatility guarantees almos...