HYIPs which accept Advanced Cash
Investment plans: 0.5% - 3% daily for 90 days | 5% - 6% daily for 35 days | 10% - 12% daily for 18 days | 18% - 20% daily for 10 days | 150% after 1 day | 200% after 3 days | 300% after 7 days | 400% after 15 days | 500% after 35 days | 900% - 1000% after 70 days

Status: PAYING
Our deposit: $200.00
Payout ratio: 46%
Lifetime: 125 days
Last paid: Sep 23rd, 2022
Minimal spend: $10
Referral bonus: 5-10%, 2%, 1%
Withdrawal: Instant
Principal return: Yes, after expiration
Interest charge: Working days
Crypto Mines Limited is an international Crypto Mining and investment company officially registered in the United Kingdom. Put your first step in a new world of crypto currency mining. Crypto Mines Limited was started by a group of visionary crypto currency enthusiasts in July 2017. With the expansion of crypto currencies, our mining activities also got expanded. T...
Investment plans: 1.5% daily for 30 days | 1.75% daily for 60 days | 2% daily for 90 days | 2.28% - 3% daily for 1 year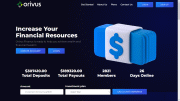 Status: PAYING
Our deposit: $100.00
Payout ratio: 112%
Lifetime: 92 days
Last paid: Sep 23rd, 2022
Minimal spend: $20
Referral bonus: 5%, 3%, 2%, 1%, 0.5%*
Withdrawal: Instant
Principal return: Yes, after expiration
Interest charge: Working days
Orivus Finance is an investment fund that invests your money in DeFi companies, projects and products. With DeFi's unique combination of investments, we empower you to take control of your financial future. Our fund allows you to invest in cryptocurrencies without worrying about risk. Our team of financial experts will manage your money for you. We are a team of...