HYIPs which accept NixMoney
Investment plans: 0.5% daily for 500 days | 3% daily for 90 days | 6% daily for 35 days | 12% daily for 18 days | 20% daily for 10 days | 150% after 1 day | 200% after 3 days | 300% after 7 days | 400% after 15 days | 500% after 35 days | 1000% after 70 days

Status: PAYING
Our deposit: $200.00
Payout ratio: 3%
Lifetime: 52 days
Last paid: Jul 24th, 2021
Minimal spend: $10
Referral bonus: 5-15%, 2%, 1%
Withdrawal: Instant
Principal return: Yes, after expiration
Interest charge: Working days
Zeppelin Cars Limited - one of the leaders in luxury car rental and buy/sell Multinational Cars Companies Shares industry in United Kingdom. RUNNING SINCE 2015, 6 YEARS EXPERIENCE IN CARS INVESTMENT BUSINESS. Officially We have obtained a special license of conducting activities which has opened access to the international market of the London , New York, Moscow, M...
Investment plans: 0.1% - 1.1% daily forever | 0.04% - 0.05% hourly (0.96% - 1.2% daily) for 120 days (deposit returned)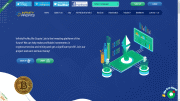 Status: PAYING
Our deposit: $50.00
Payout ratio: 21%
Lifetime: 82 days
Last paid: Jul 24th, 2021
Minimal spend: $10
Referral bonus: 1%
Withdrawal: Instant
Principal return: Yes, after expiration
Interest charge: Calendar days
We are InfinityProfits.life, a UK-based company involved in forex trading is one of the best investment options that can provide good returns. But money management in the foreign exchange currency market requires knowledge in various financial areas. We are sure that the right combination of the best world experience with a deep understanding of the realities of th...