HYIPs with Licensed Blitz script
Investment plans: 0.45% - 1.45% daily termless, principal withdraw anytime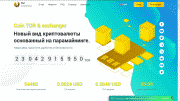 Status: PAYING
Our deposit: $200.00
Payout ratio: 129%
Lifetime: 455 days
Last paid: Jan 28th, 2020
Minimal spend: $1
Referral bonus: 3%*
Withdrawal: Manual
Principal return: Yes, after expiration
Interest charge: Calendar days
Description: TOR Corporation was established on 31 October 2018 joint efforts of young and motivated financiers and crypto traders. The basis of the project "Simplicity, Accessibility and Reliability" that describes the essence of the TOR project Corporation. Paint will not what we are good and will prove their business all the advantages of the following. For coins TOR uses a unique technology of paramining providing a reward in the form of coins TOR depending on its amount ...
Investment plans: 0.8% - 3.33% daily termless

Status: PAYING
Our deposit: $65.00
Payout ratio: 45%
Lifetime: 237 days
Last paid: Jan 28th, 2020
Minimal spend: 5 RUB
Referral bonus: 3%, 1%
Withdrawal: Manual
Principal return: Included in earnings
Interest charge: Calendar days
Description (machine translation): We have developed a unique software that calculates the forecast on the statistics of previous team games, weather on the day of the game, cards and injuries of players.