HYIPs which accept Ripple
Investment plans: 0.8% - 1.8% daily for 30 - 200 days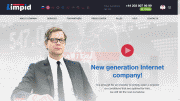 Status: PAYING
Our deposit: $165.00
Payout ratio: 86%
Lifetime: 382 days
Last paid: Apr 6th, 2020
Minimal spend: $20
Referral bonus: 5%
Withdrawal: Manual
Principal return: Yes, after expiration
Interest charge: Calendar days
Description: Our Company is a team of professionals, which provides all the conditions that allow customers to increase their capital, as well as gives the opportunity for passive earnings. Long before the launch of the platform, we created a profitable algorithm for working with financial assets, selecting and testing various directions. We also gradually created our team, which today has dozens of first-class professionals in different market segments. Thanks to the work do...
Investment plans: 0.5% - 15% daily for 600 - 15 business days...

Status: PAYING
Our deposit: $165.00
Payout ratio: 39%
Lifetime: 91 days
Last paid: Apr 3rd, 2020
Minimal spend: $10
Referral bonus: 15%, 2%, 1%*
Withdrawal: Instant
Principal return: Yes, after expiration
Interest charge: Working days
Description: Keeper-Money Limited is a company from United Kingdom that has been operating in the crypto currency mining and trading market since 2013, as well as engaging in Forex trading and having all the necessary permissions/licenses to conduct this business. The company has a number of unique trading techniques that make use of highly intelligent and self-learning trading systems. We also have our own software developments and trading algorithms, which enable us to cons...