HYIPs with H-Script
Investment plans: 0.3% daily for 365 days | 350% after 30 days | 1550% after 90 days | 6500% after 180 days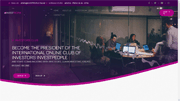 Status: PAYING
Our deposit: $200.00
Payout ratio: 108%
Lifetime: 245 days
Last paid: Sep 21st, 2022
Minimal spend: $10
Referral bonus: 1%
Withdrawal: Instant
Principal return: Yes, after expiration
Interest charge: Calendar days
Our club unites everyone who is interested and needs money, who has a desire to multiply it. The Club of Investors promotes the unification of efforts in earning and acquiring experience, knowledge in the field of money, finance. The club is open to both organizations and private investors who want to attract or offer investments.
Investment plans: 0.15% daily for 7 days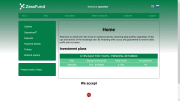 Status: PAYING
Our deposit: $50.00
Payout ratio: 2%
Lifetime: 26 days
Last paid: Sep 18th, 2022
Minimal spend: $10
Referral bonus: 1%
Withdrawal: Instant
Principal return: Yes, after expiration
Interest charge: Calendar days
Welcome to ZexxFund. We invest in cryptocurrencies receiving daily profits, regardless of the ups and downs of the exchange rate. By investing with us you are guaranteed to receive daily profit, join our team.