HYIPs which accept Monero
Investment plans: 0.08% - 20% hourly forever | 10.3% - 50% hourly for 10 hours | 107% - 1500% after 1 day | 6000% after 3 days | 12500% after 5 days | 19000% after 7 days

Status: PAYING
Our deposit: $200.00
Payout ratio: 19%
Lifetime: 7 days
Last paid: Feb 8th, 2023
Minimal spend: $1
Referral bonus: 8%*
Withdrawal: Manual
Principal return: Included in earnings
Interest charge: Calendar days
By harnessing algorithmic trading, the Totalcore investors can obtain access to a wide range of investment plans. The 10 hour plan, for example, necessitates the use of software because it involves very rapid trades. At Totalcore the profit is made with ever more refined tools of analysis. Each day we take a step forward in market technology. We are happy we can sh...
Investment plans: 0.2% per day, term 100 days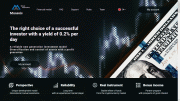 Status: PAYING
Our deposit: $150.00
Payout ratio: 83%
Lifetime: 465 days
Last paid: Feb 8th, 2023
Minimal spend: $50
Referral bonus: 3%
Withdrawal: Manual
Principal return: Yes, after expiration
Interest charge: Calendar days
Cryptocurrencies are gaining popularity amid the growing global crisis. This proves once again that alternative financial instruments can constitute a good source of income. The Muassis project invites all investors interested in profitable growth and development to support the platform through mutually beneficial cooperation. Through years of experience working wi...