HYIPs which accept Solana
Investment plans: 1.5% every 10 days, for term 180 days | 2.5% every 10 days, for term 240 days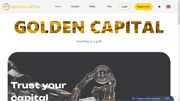 Status: PAYING
Our deposit: $200.00
Payout ratio: 1%
Lifetime: 16 days
Last paid: May 25th, 2023
Minimal spend: $50
Referral bonus: 2%*
Withdrawal: Manual
Principal return: Yes, after expiration
Interest charge: Calendar days
Minimum withdrawal: $2.5
Golden Capital is an online forex gold trading company. Our company has been successfully operating in the market for more than nine years. The launch of the platform is an important aspect in the company's development. We aim to strengthen both our investment portfolio and enable thousands of users to earn with a reliable partner like us. We invest in e-gold...
Investment plans: 102% - 120% after 24 hours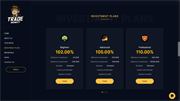 Status: PAYING
Our deposit: $100.00
Payout ratio: 8%
Lifetime: 6 days
Last paid: May 28th, 2023
Minimal spend: $25
Referral bonus: 1-10%*
Withdrawal: Instant
Principal return: Included in earnings
Interest charge: Calendar days
Minimum withdrawal: 0.1$
As a reserve fund, we accumulate money from investors before transferring it to exchange services. When the exchangers own funds are insufficient to conduct operations, our investors funds are utilized. Our business logic is really straightforward and dependable: we have discovered a technique for making secure investments in stable exchange services and producing ...