HYIPs which accept QIWI
Investment plans: 0.7% - 1% daily for 200 - 360 days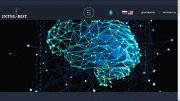 Status: PAYING
Our deposit: $100.00
Payout ratio: 157%
Lifetime: 529 days
Last paid: Aug 13th, 2020
Minimal spend: $10
Referral bonus: 8%
Withdrawal: Manual
Principal return: Included in earnings
Interest charge: Calendar days
Intel-Bot - Investing in the Future! High technologies with incredible speed are being introduced into all spheres of human life. The fact that recently seemed impossible - already surrounds us! The future is near! The time has come to discover the incredible possibilities of artificial intelligence in the field of investment. Intel-Bot - a modern tool for generati...
Investment plans: 21% - 32% per month for 270 - 210 days

Status: PAYING
Our deposit: $50.00
Payout ratio: 28%
Lifetime: 49 days
Last paid: Aug 13th, 2020
Minimal spend: $10
Referral bonus: 7%,3%,2%,1%,1%
Withdrawal: Manual
Principal return: Included in earnings
Interest charge: Calendar days
Specialists knowing perfectly the percentage ratio of earnings and risk to produce restructuring, as a result of which a team of experienced, active, motivated professionals conducts its core business department, and thereby diversifies the total revenue of the company and customers. The leading areas in earnings are cryptocurrency trading, trading on the stock ma...