HYIPs which accept Tether
Investment plans: 0.5% - 1% daily for 30 - 90 days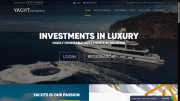 Status: PAYING
Our deposit: $200.00
Payout ratio: 45%
Lifetime: 186 days
Last paid: Jul 8th, 2020
Minimal spend: $10
Referral bonus: 5%, 4%, 3%, 1%, 1%
Withdrawal: Manual
Principal return: Yes, after expiration
Interest charge: Calendar days
Yachts is our passion! There is nothing better for us in life than time spent on water with people who mean something to us. Yachting is our passion. This is the drive of our team, 24/7, 365 days a year. Striving to be the best in everything that we do, we always put the interests of our customers above our own. For ours, good is not enough. We always do more than ...
Investment plans: 29% daily for 4 days...

Status: PAYING
Our deposit: $50.00
Payout ratio: 181%
Lifetime: 43 days
Last paid: Jul 8th, 2020
Minimal spend: $5
Referral bonus: 10-5-3-2-1%*
Withdrawal: Instant
Principal return: Included in earnings
Interest charge: Calendar days
Profits-Trade brings the power of data science and artificial intelligence to trading. Invest in crypto with automated quant trading strategies and build your crypto portfolio in a minute with no management, entry, or exit fees.