RubSec HYIP Details
Investment plans: 2,33% - 4% daily termless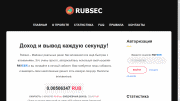 Status: NOT PAYING
Our deposit: $30.00
Payout ratio: 22%
Worked: 12 days
Monitored: 10 days
Minimal spend: 10 RUB
Referral bonus: 7%
Withdrawal: Instant
Principal return: Included in earnings
Interest charge: Calendar days
Maximal spend: No limit
Last paid: Jul 20th, 2019
Our rating:





Users voting: No votes
Support: -
Description (machine translation):
This is an economic simulator with the possibility of earning real money. The essence of earnings is mining, after the first entry your miner will automatically begin to collect money. There are three modes of earnings: Initial, Normal, Maximum. Each mode differs from each other in terms of investment payback time. After the first entry, you will be credited 5 bonus rubles in the "Initial" mode. Monthly income from bonus funds 3.51 rubles. There are no restrictions on withdrawal of funds, you can earn absolutely without investments! You can invite your friends and acquaintances, and receive 7% of their investments. We wish you all a pleasant and profitable pastime and big earnings!
Payment systems:

Payeer
Hyip features:

DDoS protection |

SSL encryption |

Unique design |

Unique script |

Online chat
HYIP forums: Coming soon
More information:

InvestorsStartPage |

H-metrics |

AllHYIPMonitors |

AllHyipMon |

HyipMonitors24 |

AllHyipData |

Earnupdates |

Whois Info |

Who.is |

Alexa Rank