1Hour HYIP Details
Investment plans: 110% in 24 hours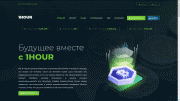 Status: NOT PAYING
Our deposit: $30.00
Payout ratio: 0%
Worked: 7 days
Monitored: 4 days
Minimal spend: $5
Referral bonus: 3%
Withdrawal: Manual
Principal return: Included in earnings
Interest charge: Calendar days
Maximal spend: $300
Last paid: No payouts yet
Our rating:





Users voting: No votes
Support: -
Description (machine translation):
1HOUR Ltd consists of investment professionals, from engineers to trading analysts and marketers, who are experienced in various effective methods of mining and trading in the cryptocurrency field. Whether you are a small or large investor, we can help you with your investment goals. In addition, you will have access to our optimized service and ongoing support. We provide a service based on integrity and completely transparent. Not everyone has detailed knowledge of cryptocurrency markets, and for many people, the best choice is to work with a financial services provider such as 1HOUR Ltd, who has gained the necessary experience and therefore can provide financial products in the form of fixed income accounts. After many years of professional cryptocurrency trading, we combined our skills, knowledge and talents in an attempt to create a new reliable investment opportunity.
Payment systems:

Payeer |

Perfect Money
Site features:

Strong DDoS protection |

SSL encryption |

Unique design |

Unique script |

Online chat
HYIP forums: Coming soon
More information: -