Pokemon-Game HYIP Details
Investment plans: 37.2% - 46.9% per month | profit is distributed into 2 accounts: for withdrawal and purchases, in proportions 60/40%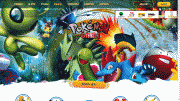 Status: NOT PAYING
Our deposit: $30.00
Payout ratio: 28%
Worked: 37 days
Monitored: 37 days
Minimal spend: $1
Referral bonus: 7%, 2%, 1%
Withdrawal: Instant
Principal return: Included in earnings
Interest charge: Calendar days
Maximal spend: No limit
Last paid: Dec 23rd, 2019
Our rating:





Users voting: No votes
Support: -
Description (machine translation):
Welcome to the new exciting game Pokemon Game - Economic game! A unique economic game simulator, with the possibility of earning real money. In this project, you have to purchase Pokemon, which will begin to bring you profit from the first seconds. Each Pokemon has a certain percentage of profit that you can get from each game unit. The number of acquired Pokémon in the project is not limited.
Payment systems:

Payeer
Site features:

SSL encryption |

Unique design |

Unique script
HYIP forums: DreamTeamMoney | MMGP | InvesToday
More information:

Alexa Rank |

InvestorsStartPage |

HYIPLogs |

AllHyipMon |

HyipMonitors24 |

AllHyipData |

H-STAT |

Hyipbox |

Whois Info |

Who.is