Magic of Profit HYIP Details
Investment plans: 1.32% - 1.76% daily for 30 days (50% principal return)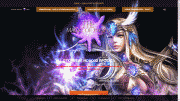 Status: NOT PAYING
Our deposit: $30.00
Payout ratio: 26%
Worked: 28 days
Monitored: 24 days
Minimal spend: 1 RUB
Referral bonus: 10%, 2%*
Withdrawal: Manual
Principal return: Yes, after expiration
Interest charge: Calendar days
Maximal spend: 1,000 RUB
Last paid: Dec 16th, 2019
Our rating:





Users voting: No votes
Support: -
Description (machine translation):
Magic of Profit - Welcome to the fascinating online cash withdrawal game "The magic of profit". All that is required of you is to register in our project and think over your game strategy to maximize profit. The project provides for one character "Anaiel" After hiring you will receive: + 10% to the amount of your contribution. The character is hired for 30 days. Distribution of profit: 50% for withdrawal and 50% back to the character's work. (You can also increase% reinvest for more profit). For example: If you invested 100 rubles with a 50% reinvest, then in the end your profit will be 139.6 rubles. Net income 39.6 rubles. With a 95% reinvest, your profit will already be 152.79 rubles, and your net income will be 52.79 rubles.
Payment systems:

Payeer
Site features:

DDoS protection |

SSL encryption |

Unique design
HYIP forums: MMGP | InvesToday
More information:

Alexa Rank |

InvestorsStartPage |


All HYIP Monitors |

AllHyipMon |

HYIPLogs |

HyipMonitors24 |

AllHyipData |

H-STAT |

Hyipbox |

Whois Info |

Who.is