Makemoney2020 HYIP Details
Investment plans: 30% in 24 hours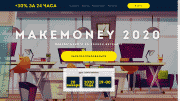 Status: NOT PAYING
Our deposit: $30.00
Payout ratio: 61%
Worked: 4 days
Monitored: 4 days
Minimal spend: 100 RUB
Referral bonus: 7%
Withdrawal: Instant
Principal return: Yes, after expiration
Interest charge: Calendar days
Maximal spend: 100,000 RUB
Last paid: Jan 20th, 2020
Our rating:





Users voting: No votes
Support: -
Description (machine translation):
Today, probably, one of the fastest growing areas is the foreign exchange market. In this area, billions of dollars are spinning, and the dollar is certainly growing. All these factors indicate that investment in the foreign exchange market provides guarantees of quick and high profits. Our company, having carried out monitoring, the field of information technology and based on the information received, decided to occupy its niche in this area. We provide each of our investors to start making extra profits in this promising market. The market in which we invest is quite stable against global financial crises, which gives certain guarantees to minimize risks. Analysts of our company in the course of their work identified the most promising area for investment - investing in the foreign exchange market. Therefore, we decided to create an investment fund to achieve success in the field of investment. The staff of our company includes a large number of professionals with many years of experience who are well versed in the investment market. Invest with us, do not deprive yourself of the opportunity to receive a stable constant income. And our employees will do everything necessary so that our cooperation turns into a reliable partnership.
Payment systems:

Payeer
Site features:

Strong DDoS protection |

SSL encryption
HYIP forums: DreamTeamMoney | MMGP | InvesToday
More information:

Alexa Rank |

InvestorsStartPage |

HYIPLogs |

AllHyipMon |

HyipMonitors24 |

AllHyipData |

H-STAT |

Hyipbox |

Whois Info |

Who.is