Elcarinvest HYIP Details
Investment plans: 3% daily for 15 days | 4% - 7% daily termless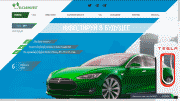 Status: NOT PAYING
Our deposit: $50.00
Payout ratio: 24%
Worked: 17 days
Monitored: 11 days
Minimal spend: $5
Referral bonus: 7%, 5%, 1%
Withdrawal: Manual
Principal return: Yes, after expiration
Interest charge: Calendar days
Maximal spend: $49,999
Last paid: Apr 5th, 2020
Our rating:





Users voting: No votes
Support: -
Description (machine translation):
We are building a network of charging stations for electric cars. Now we have more than 150 stations in South Java. Since 2020, the company has been engaged in marketing and development of individuals. Now the network of charging stations will be created in the USA. According to statistics, one profit brings income from 600 to 2500 dollars per month, we offer our investors from 3% to 7% profit per day in 4 tariff plans.
Payment systems:

Bitcoin |

Bitcoin Cash |

Dash |

Ethereum |

Litecoin |

Payeer |

Perfect Money
Site features:

Strong DDoS protection |

SSL encryption |

Unique design |

Registered company |

Online chat
HYIP forums: DreamTeamMoney | MMGP | InvesToday
More information: -