ReliableFlow.cc HYIP Details
Investment plans: 105% after 1 day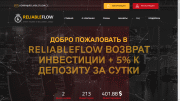 Status: NOT PAYING
Our deposit: $115.00
Payout ratio: 73%
Worked: 14 days
Monitored: 12 days
Minimal spend: $1
Referral bonus: 5%, 3%, 1%
Withdrawal: Instant
Principal return: Included in earnings
Interest charge: Calendar days
Maximal spend: $15
Last paid: Aug 13th, 2020
Our rating:





Users voting: No votes
Support: -
Description (machine translation):
Hello, we are traders (website https://reliableflow.cc/). We help people make money. Everyone can start investing and earn income. But not everyone is ready to study everything on their own. If you don't want to spend hours analyzing charts, you can choose us. In the near future, we plan to open a new tariff and increase the investor base. This will allow us to become better and expand our staff. Thanks to which we can bring you more money.
Payment systems:

Payeer |

Perfect Money |

Zcash
Site features:

DDoS protection |

SSL encryption |

Licensed Blitz script |

Registered company
HYIP forums: Coming soon
More information:

Alexa Rank |

InvestorsStartPage |

HYIPLogs |

AllHyipMon |

HyipMonitors24 |

AllHyipData |

H-STAT |

Hyipbox |

Whois Info |

Who.is