Zfinance.cc HYIP Details
Investment plans: 1% daily termless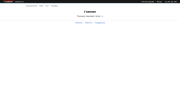 Status: NOT PAYING
Our deposit: $50.00
Payout ratio: 12%
Worked: 31 days
Monitored: 27 days
Minimal spend: $5
Referral bonus: 1%
Withdrawal: Instant
Principal return: Yes, after expiration
Interest charge: Calendar days
Maximal spend: $500
Last paid: Dec 25th, 2020
Our rating:





Users voting: No votes
Support: -
Description (machine translation):
We offer you to earn 105% for 5 days of your deposit, where 5% is net income. You will receive 1% every 24 hours for 5 days. The body of the deposit is returned at the end of the term.
Payment systems:

Perfect Money
Site features:

DDoS protection |

SSL encryption
HYIP forums: DreamTeamMoney | MMGP | InvesToday
More information:

AllHYIPMonitors |

Alexa Rank |

InvestorsStartPage |

HYIPLogs |

AllHyipMon |

HyipMonitors24 |

AllHyipData |

Hyipbox |

Earnupdates |

Whois Info |

Who.is