Genius-Profit.com HYIP Details
Investment plans: 144% in 12 days | 180% in 15 days | 300% in 25 days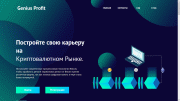 Status: NOT PAYING
Our deposit: $50.00
Payout ratio: 0%
Worked: 4 days
Monitored: 3 days
Minimal spend: $1
Referral bonus: 7%*
Withdrawal: Manual
Principal return: Included in earnings
Interest charge: Calendar days
Maximal spend: $6,000
Last paid: No payouts yet
Our rating:





Users voting: No votes
Support: -
Description (machine translation):
Genius profit is a privately held investment company that was founded in the UK. We are engaged in trading, mining and investing in startups related to cryptocurrencies. Of our 100 employees, more than 35 are investment professionals, and partners are the largest investors in our strategies. Genius Profit is a well-established and respected company with a stable client base of over 250,000 investors. The firm continues to remain independent of its partners, thereby ensuring alignment of interests with its clients.
Payment systems:

Payeer |

Perfect Money
Site features:

Strong DDoS protection |

SSL encryption
HYIP forums: Coming soon
More information:

AllHYIPMonitors |

Alexa Rank |

InvestorsStartPage |

HYIPLogs |

AllHyipMon |

HyipMonitors24 |

AllHyipData |

Hyipbox |

Earnupdates |

Whois Info |

Who.is