Carmarket.digital HYIP Details
Investment plans: 0.5% - 1.5% daily for 10 - 27 days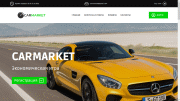 Status: NOT PAYING
Our deposit: $50.00
Payout ratio: 1%
Worked: 5 days
Monitored: 2 days
Minimal spend: 100 RUB
Referral bonus: 3%, 2%, 1%
Withdrawal: Instant
Principal return: Yes, after expiration
Interest charge: Calendar days
Maximal spend: No limit
Last paid: Nov 13th, 2021
Our rating:





Users voting: No votes
Support: -
Description (machine translation):
The CARMARKET project is an economic game with the withdrawal of real money. The gameplay consists in buying cars and renting them out for car sharing. Each car will bring you a fixed profit for a set period of time. You can not be limited to only one car, buy as many cars as you want in our showroom and earn much more profit. We do not have any cash points and other things, only real money!
Payment systems:

Payeer
Site features:

Strong DDoS protection |

SSL encryption |

Unique script
HYIP forums: Coming soon
More information:

H-metrics |

InvestorsStartPage |

AllHYIPMonitors |

AllHyipMon |

HyipMonitors24 |

AllHyipData |

Earnupdates |

Whois Info |

Who.is |

Alexa Rank