Earnmari Project Details
Investment plans: 3% every 72 hours for 21 days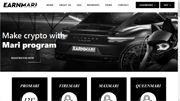 Status: NOT PAYING
Our deposit: $50.00
Payout ratio: 166%
Worked: 52 days
Monitored: 52 days
Minimal spend: 300TRX / 0.3LTC
Referral bonus: 2-5%, 1% 1%*
Withdrawal: Automatic
Principal return: Yes, after expiration
Interest charge: Calendar days
Maximal spend: No limit
Last paid: Apr 20th, 2023
Our rating:





Users voting: No votes
Support: -
Minimum withdrawal: 25 TRX, 0.05 LTC. Payouts processed by script automatically after 12 hours.
Description:
Earnmari.com crypto fund generates income through profitable investments in crypto startups and algorithmic trading strategy.The site team uses the most advanced analytical methods as well author's trading model. All user deposits are combined into a common pool of earnmari liquidity. Fully automatic mechanism (Mari crypto bot) opens and closes deals within a day, week, month.The fund offers 4 investment plans and fast withdrawal for clients all over the world.
Payment systems:

Litecoin |

Tron
Hyip features:

Strong DDoS protection |

SSL encryption |

H-Script |

Unique design
More information:

InvestorsStartPage |

H-metrics |

AllHYIPMonitors |

HyipMonitors24 |

InvestFilters |

WHM |

Whois Info