BTC2X Project Details
Investment plans: 4% daily for 50 days | 8% daily for 75 days | 15% daily for 100 days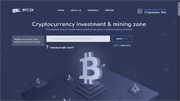 Status: NOT PAYING
Our deposit: $100.00
Payout ratio: 38%
Worked: 17 days
Monitored: 12 days
Minimal spend: $1
Referral bonus: 20%*
Withdrawal: Instant
Principal return: Included in earnings
Interest charge: Calendar days
Maximal spend: No limit
Last paid: Oct 1st, 2023
Our rating:





Users voting: No votes
Support: -
Minimum withdrawal: $1
Description:
Our company offers trust assets management of the highest quality on the basis of foreign exchange and profitable trade through Bitcoin exchanges, as well as mining. There is no other worldwide financial market that can guarantee a daily ability to generate constant profit with the large price swings of Bitcoin. Proposed modalities for strengthening cooperation will be accepted by anyone who uses cryptocurrency and knows about its fantastic prospects. Your deposit works on a permanent basis and makes a profit every day. Join our company today and start making high profits!
Payment systems:

Tether TRC20 |

Bitcoin |

Litecoin |

Dogecoin |

Tron
Hyip features:

Strong DDoS protection |

SSL encryption |

Unique design |

Unique script |

Registered company
More information:

InvestorsStartPage |

H-metrics |

AllHYIPMonitors |

HyipMonitors24 |

InvestFilters |

WHM |

Whois Info