ScanTron Project Details
Investment plans: 2.5% per day for 14 days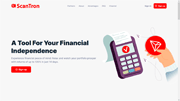 Status: NOT PAYING
Our deposit: $200.00
Payout ratio: 0%
Worked: 4 days
Monitored: 4 days
Minimal spend: 250 TRX
Referral bonus: 4%, 3%, 2%*
Withdrawal: Automatic
Principal return: Yes, after expiration
Interest charge: Calendar days
Maximal spend: 10,000 TRX
Last paid: No payouts yet
Our rating:





Users voting: No votes
Support: -
Minimum withdrawal: 50 TRX
Description:
SCANTRON is a platform that invests in the TRON cryptocurrency. They use advanced technology and algorithms to analyze the market and find potentially profitable investments. Additionally, they offer advisory services for those who want to understand more about the world of cryptocurrencies and how to invest in it.
Payment systems:

Tron
Hyip features:

Strong DDoS protection |

SSL encryption |

Unique design |

Unique script |

Online chat
More information:

InvestorsStartPage |

H-metrics |

AllHYIPMonitors |

HyipMonitors24 |

InvestFilters |

WHM |

Whois Info