HYIPs with Licensed Craidan script
Investment plans: 1% daily for 30 days...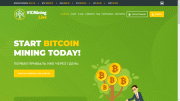 Status: PAYING
Our deposit: $200.00
Payout ratio: 12%
Lifetime: 4 days
Last paid: Jul 8th, 2020
Minimal spend: $10
Referral bonus: 2%, 1%, 1%
Withdrawal: Instant
Principal return: Yes, after expiration
Interest charge: Calendar days
VICMining - Live is an intelligent cloud mining service designed for affordable Bitcoin mining. Our platform is also implemented for making investments in USD currency from the population. Our company constantly offers cloud mining contracts with a fixed interest rate. Unlike some other companies, VICMining - Live does not have any hidden fees. You will earn exactl...