GreenZone.vip HYIP Details
Investment plans: 0.9% - 1.3% daily for 10 - 40 days; + bonus 8%, 12%, 16% for second and more deposits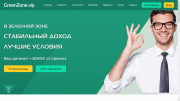 Status: NOT PAYING
Our deposit: $50.00
Payout ratio: 7%
Worked: 15 days
Monitored: 7 days
Minimal spend: $10
Referral bonus: 7%, 2%*
Withdrawal: Instant
Principal return: Yes, after expiration
Interest charge: Calendar days
Maximal spend: $999
Last paid: Feb 20th, 2021
Our rating:





Users voting: No votes
Support: -
Description (machine translation):
Our experienced employees conduct over 200 financial transactions daily in various financial markets. The Green Zone participates in short-term and long-term financial programs and funds, and is now entering the market with cryptocurrency trading operations. The Green Zone takes part in the development of trading strategies, as well as making money on the sale of trading strategies and techniques in the blockchain system. Attracting additional funds and assets to the Green Zone will expand the scope of activities in new projects, as well as get more benefits in ongoing financial transactions today.
Payment systems:

Perfect Money |

Zcash
Site features:

Strong DDoS protection |

SSL encryption |

Licensed Craidan script
HYIP forums: DreamTeamMoney | MMGP
More information:

AllHYIPMonitors |

Alexa Rank |

InvestorsStartPage |

HYIPLogs |

AllHyipMon |

HyipMonitors24 |

AllHyipData |

Hyipbox |

Earnupdates |

Whois Info |

Who.is