Almaz111 HYIP Details
Investment plans: 0.8% - 1.7% daily for 365 - 180 days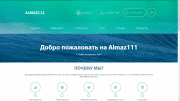 Status: NOT PAYING
Our deposit: $30.00
Payout ratio: 9%
Worked: 26 days
Monitored: 25 days
Minimal spend: $10
Referral bonus: 10%, 3%, 2%*
Withdrawal: Manual
Principal return: Included in earnings
Interest charge: Calendar days
Maximal spend: $25,000
Last paid: Dec 11th, 2019
Our rating:





Users voting: No votes
Support: -
Description (machine translation):
Almaz111 provides you with the opportunity to make a profit easily and simply, we help users make money easily. Do you have time, but don't know where to spend it? Do you work, but would like to receive additional income? Do you have extra money but don't know how to increase it? Soon the holidays and do not know how to quickly collect money for gifts to relatives? Do you need money, but don't know how to earn it fast? We are the perfect platform for you. You only need from $ 5 and 2 minutes of time to register, and then just earn income. For example, today you opened a position worth $ 5 and in just 5 days you get a profit of $ 25. Everything is simple. Interested in? Do not hesitate, Join now!
Payment systems:

Payeer |

QIWI |

Yandex.Money
Site features:

SSL encryption |

Dedicated server/IP
HYIP forums: DreamTeamMoney | InvesToday
More information:

Alexa Rank |

InvestorsStartPage |

HYIPLogs |

AllHyipMon |

HyipMonitors24 |

AllHyipData |

H-STAT |

Hyipbox |

Whois Info |

Who.is