Vicmining.Live HYIP Details
Investment plans: 1% daily for 30 days | 1.5% daily for 60 days | 3% daily for 90 days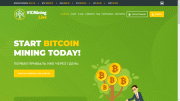 Status: NOT PAYING
Our deposit: $200.00
Payout ratio: 12%
Worked: 5 days
Monitored: 5 days
Minimal spend: $10
Referral bonus: 2%, 1%, 1%
Withdrawal: Manual
Principal return: Yes, after expiration
Interest charge: Calendar days
Maximal spend: $5,000
Last paid: Jul 8th, 2020
Our rating:





Users voting: No votes
Support: -
Description (machine translation):
VICMining - Live is an intelligent cloud mining service designed for affordable Bitcoin mining. Our platform is also implemented for making investments in USD currency from the population. Our company constantly offers cloud mining contracts with a fixed interest rate. Unlike some other companies, VICMining - Live does not have any hidden fees. You will earn exactly as much as indicated in the tariff plan.
Payment systems:

Advanced Cash |

Payeer |

Perfect Money
Site features:

Strong DDoS protection |

SSL encryption |

Licensed Craidan script |

Unique script |

Registered company
HYIP forums: Coming soon
More information:

Alexa Rank |

InvestorsStartPage |

HYIPLogs |

AllHyipMon |

HyipMonitors24 |

AllHyipData |

H-STAT |

Hyipbox |

Whois Info |

Who.is