Tehno.Digital HYIP Details
Investment plans: 20% daily for 8 days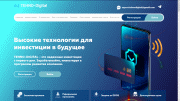 Status: NOT PAYING
Our deposit: $51.00
Payout ratio: 42%
Worked: 13 days
Monitored: 6 days
Minimal spend: $3
Referral bonus: 8%*
Withdrawal: Instant
Principal return: Included in earnings
Interest charge: Calendar days
Maximal spend: $1,536
Last paid: Aug 13th, 2020
Our rating:





Users voting: No votes
Support: -
Description (machine translation):
TEHNO-DIGITAL is an international investment platform that combines all the most profitable ways to make money and offers its clients a truly high-quality service. Our platform is a place where you can not only make money by investing. We offer our clients currency exchange services at the best rates. Also, a whole payment system of TEHNO-DIGITAL LTD will soon be launched, which absolutely everyone can use as an electronic wallet.
Payment systems:

Payeer |

Perfect Money
Site features:

DDoS protection |

SSL encryption |

Licensed Craidan script
HYIP forums: MMGP
More information:

AllHYIPMonitors |

Alexa Rank |

InvestorsStartPage |

HYIPLogs |

AllHyipMon |

HyipMonitors24 |

AllHyipData |

Hyipbox |

Earnupdates |

Whois Info |

Who.is