Eco-Drive.pro HYIP Details
Investment plans: 110% - 115% after 1 day | 5% hourly for 24 hours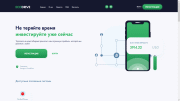 Status: NOT PAYING
Our deposit: $40.00
Payout ratio: 7%
Worked: 4 days
Monitored: 1 day
Minimal spend: $1
Referral bonus: 7%
Withdrawal: Instant
Principal return: Included in earnings
Interest charge: Calendar days
Maximal spend: $100
Last paid: Feb 9th, 2021
Our rating:





Users voting: No votes
Support: -
Description (machine translation):
ECO-DRIVE is an officially registered company that provides its customers with all the necessary guarantees. In addition, we guarantee the accrual of the requested payments in the prescribed manner and in full. The company's system, support service, is open 24 hours a day, which means that you can always communicate with our services if you have any questions.
Payment systems:

Perfect Money
Site features:

Strong DDoS protection |

SSL encryption |

Unique script
HYIP forums: Coming soon
More information:

AllHYIPMonitors |

Alexa Rank |

InvestorsStartPage |

HYIPLogs |

AllHyipMon |

HyipMonitors24 |

AllHyipData |

Hyipbox |

Earnupdates |

Whois Info |

Who.is