BirdsBank.Cash HYIP Details
Investment plans: 1% - 6% daily for 365 days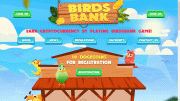 Status: NOT PAYING
Our deposit: $200.00
Payout ratio: 35%
Worked: 19 days
Monitored: 18 days
Minimal spend: 10 DOGE
Referral bonus: 10%, 3%, 2%*
Withdrawal: Manual
Principal return: Included in earnings
Interest charge: Calendar days
Maximal spend: 10,000 DOGE
Last paid: Nov 19th, 2021
Our rating:





Users voting: No votes
Support: -
Description (machine translation):
Automatic egg accumulation system! Collecting eggs without loss, no time limit! Collect eggs as it is convenient for you! System Market to instantly exchange eggs for Silver! The fastest possible payments to your wallet! In the course of the game, new features and capabilities will also be added!
Payment systems:

Bitcoin |

Bitcoin Cash |

Dash |

Dogecoin |

Ethereum |

Litecoin |

Monero |

Ripple |

Tether |

Zcash
Site features:

Strong DDoS protection |

SSL encryption |

Licensed CMS AdminStation |

Dedicated server/IP |

Unique design
HYIP forums: MMGP
More information:

H-metrics |

InvestorsStartPage |

AllHYIPMonitors |

AllHyipMon |

HyipMonitors24 |

AllHyipData |

Earnupdates |

Whois Info |

Who.is |

Alexa Rank