Cryptory Project Details
Investment plans: 0.45% - 0.55% daily for 90 days | 102% - 103% after 8 days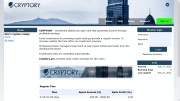 Status: NOT PAYING
Our deposit: $50.00
Payout ratio: 250%
Worked: 271 days
Monitored: 271 days
Minimal spend: $5
Referral bonus: 2%
Withdrawal: Manual
Principal return: Yes, after expiration
Interest charge: Calendar days
Maximal spend: $250,000
Last paid: Jun 18th, 2023
Our rating:





Users voting: No votes
Support: -
Minimum withdrawal: TRX/ XRP/ LTC - 1$, BTC - 30$
Description:
CRYPTORY - investment platform/crypto fund that generates income through profitable strategy. Early investments in promising crypto startups provide a regular income. To increase capital, the fund offers an investment program. Professional team managers keep track of new crypto trends and invest from the development phase. Investment risks are controlled automatically. Cryptory.pro provides tools crypto earnings for site users.
Payment systems:

Bitcoin |

Litecoin |

Tron
Hyip features:

Strong DDoS protection |

SSL encryption |

Licensed GC script |

Dedicated server/IP
More information:

InvestorsStartPage |

H-metrics |

AllHYIPMonitors |

HyipMonitors24 |

InvestFilters |

WHM |

Whois Info