Nnj-Techno Project Details
Investment plans: 0.65% daily for 3 days | 0.85% daily for 7 days | 1.15% daily for 15 days | 1.55% daily for 40 days | 250% after 3 days | 600% after 5 days | 4000% after 50 days | 6500% after 70 days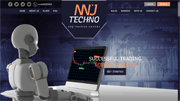 Status: NOT PAYING
Our deposit: $100.00
Payout ratio: 74%
Worked: 106 days
Monitored: 106 days
Minimal spend: 10$
Referral bonus: 1-5%*
Withdrawal: Instant
Principal return: Yes, after expiration
Interest charge: Calendar days
Maximal spend: 200$
Last paid: Jun 1st, 2023
Our rating:





Users voting: No votes
Support: -
Minimum withdrawal: $0.5
Description:
NNJ TECHNO is a company that specializes in investing and developing trading robots for the Forex market. The company was founded by experienced traders and programmers several years ago with the aim of creating unique technologies that automate trading on the Forex market. One of the main tasks of the company is to provide its clients with tools for automated trading on Forex. NNJ TECHNO develops robots that are capable of analyzing the market, making decisions, and executing trades automatically, without requiring constant monitoring and involvement of the trader. In addition, NNJ TECHNO is involved in Forex investing. The company uses its own technologies to analyze the market and make decisions on buying and selling currencies. The company aims to achieve maximum profitability for its investors, using its knowledge and experience in Forex trading. NNJ TECHNO has its own trading platform, which is used for trading on Forex. The platform allows investors to make trades on the Forex market online and provides access to a wide range of tools and analytical data necessary for successful trading. NNJ TECHNO also provides its clients with educational materials and consultations on Forex trading. This helps beginners in this field to quickly get started and start earning on the Forex market. NNJ TECHNO takes responsibility for the safety of its clients' funds, providing secure methods of depositing and withdrawing funds. Overall, NNJ TECH is a company that specializes in investing and developing trading robots for Forex, aiming to help its clients achieve maximum profitability on the currency market. Modern technologies and experienced specialists allow the company to succeed in this field.
Payment systems:

ePayCore |

Tether TRC20 |

Tether BEP20 |

Bitcoin |

Bitcoin Cash |

Litecoin |

Ethereum |

Dogecoin |

Dash |

Tron |

Ripple |

Stellar |

BNB.BSC
Hyip features:

Strong DDoS protection |

SSL encryption |

Licensed GC script |

Dedicated server/IP |

Unique design |

Registered company |

Online chat
More information:

InvestorsStartPage |

H-metrics |

AllHYIPMonitors |

HyipMonitors24 |

InvestFilters |

WHM |

Whois Info