Niton Capital Ltd Project Details
Investment plans: 1.2% daily for 3 days | 1.5% daily for 4 days | 1.8% daily for 5 days | 2.2% daily for 6 days | 2.5% daily for 7 days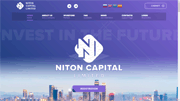 Status: NOT PAYING
Our deposit: $200.00
Payout ratio: 1%
Worked: 8 days
Monitored: 2 days
Minimal spend: $1
Referral bonus: 5%, 0.5%, 0.3%, 0.1%, 0.1%*
Withdrawal: Instant
Principal return: Yes, after expiration
Interest charge: Calendar days
Maximal spend: $5000
Last paid: Mar 19th, 2023
Our rating:





Users voting: No votes
Support: -
Minimum withdrawal: $1 ePayCore, $10 Tether USD
Description:
NITON CAPITAL LTD is a company that allows others to earn. We have made a successful career in trading. And now we are happy to share our financial instruments with you. The NITON CAPITAL LTD team helps newcomers, because it is easy to lose all your capital in this area. By entrusting your funds to us, you not only multiply them, but also automatically insure them - we work exclusively through insurance companies to save your money first of all, and, of course, ours. In this regard, our investors are always calm. And the license received recently gives an even greater guarantee of the security of transactions for our investors and their partners.
Payment systems:

ePayCore |

Tether TRC20 |

Tron |

BNB.BSC |

NixMoney
Hyip features:

Strong DDoS protection |

SSL encryption |

H-Script |

Unique design |

Registered company |

Online chat
More information:

InvestorsStartPage |

H-metrics |

AllHYIPMonitors |

AllHyipMon |

HyipMonitors24 |

Earnupdates |

WHM |

Whois Info |

Who.is