Hyip Max Project Details
Investment plans: 0.29% - 1% daily for 30 - 720 days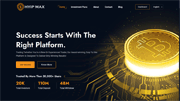 Status: NOT PAYING
Our deposit: $200.00
Payout ratio: 5%
Worked: 40 days
Monitored: 40 days
Minimal spend: $50
Referral bonus: 8%,5%,3%,2%,1%*
Withdrawal: Manual
Principal return: Yes, after expiration
Interest charge: Calendar days
Maximal spend: $1,000,000
Last paid: Apr 14th, 2023
Our rating:





Users voting: No votes
Support: -
Minimum withdrawal: PM - $5, Crypto - $50
Description:
The HYIP MAX trading platform is comprised of two main core components: The CrossEngine and the TradingEngine. The CrossEngine strictly matches client orders based on price and time priority. The TradingEngine is responsible for managing a full set of risk checks on behalf of the client's trading account. These include costs, fees, PNL, computing, and more, in real-time.
Payment systems:

Tether TRC20 |

Bitcoin |

Bitcoin Cash |

Litecoin |

Ethereum |

Dogecoin |

Dash |

Tron
Hyip features:

DDoS protection |

SSL encryption |

Unique script |

Online chat
More information:

InvestorsStartPage |

H-metrics |

AllHYIPMonitors |

HyipMonitors24 |

InvestFilters |

WHM |

Whois Info