ZiBot Project Details
Investment plans: 100.3% after 3 hours | 104% after 1 day | 108% after 1 day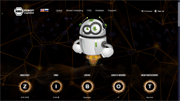 Status: NOT PAYING
Our deposit: $50.00
Payout ratio: 0%
Worked: 1 day
Monitored: 1 day
Minimal spend: $10
Referral bonus: 5-10%, 1-3%, 0.5-2%*
Withdrawal: Instant
Principal return: Included in earnings
Interest charge: Calendar days
Maximal spend: $15,000
Last paid: No payouts yet
Our rating:





Users voting: No votes
Support: -
Minimum withdrawal: 0.0002 btc, 0.005 eth, 0.02 ltc, 5 doge, 1 xrp, 0.005 bnb, 5 trx, 1 usdt_bep20, 3 usdt_trc20, 5 usdt_erc20
Description:
ZiBot – This is a team of three people, a programmer and two traders. For five years, we have been successfully trading on various currency exchanges. With the increased popularity of crypto currencies, we completely switched to crypto foreign. All our experience, trading strategies, the ability to bypass the laws of exchanges, we combined in our programs - bots that now trade on their own in automatic mode. We created various bots that trade in various conditions and a different set of currencies. The bots portfolio contains certain cryptocurrencies and exchanges, and may change.
Payment systems:

Tether TRC20 |

Bitcoin |

Bitcoin Cash |

Litecoin |

Ethereum |

Dogecoin |

Tron |

Ripple |

BNB.BSC
Hyip features:

Strong DDoS protection |

SSL encryption |

Licensed Blitz script
More information:

InvestorsStartPage |

H-metrics |

AllHYIPMonitors |

AllHyipMon |

HyipMonitors24 |

Earnupdates |

WHM |

Whois Info |

Who.is