Zaayion Ltd Project Details
Investment plans: 4.76% hourly for 24 hours | 1.89% hourly for 72 hours | 7.52% daily for 25 days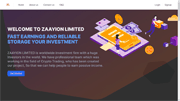 Status: NOT PAYING
Our deposit: $50.00
Payout ratio: 4%
Worked: 2 days
Monitored: 2 days
Minimal spend: $10
Referral bonus: 5%*
Withdrawal: Automatic
Principal return: Yes, after expiration
Interest charge: Calendar days
Maximal spend: $20,000
Last paid: Sep 18th, 2023
Our rating:





Users voting: No votes
Support: -
Minimum withdrawal: Epaycore and PerfectMoney is $0.2, for crypto $5.
Description:
ZAAYION LIMITED is worldwide investment firm with a huge investors in the world. We have professional team which was working in the field of Crypto Trading, who has been created our project, So that we can help people to earn passive income.
Payment systems:

ePayCore |

Tether TRC20 |

Bitcoin |

Bitcoin Cash |

Litecoin |

Ethereum |

Dogecoin |

Dash |

Shiba Inu |

BNB.BSC
Hyip features:

DDoS protection |

SSL encryption |

Unique design |

Unique script |

Registered company
More information:

InvestorsStartPage |

H-metrics |

AllHYIPMonitors |

HyipMonitors24 |

InvestFilters |

WHM |

Whois Info