Intelid Project Details
Investment plans: 2.25% – 3.05% daily for 18 – 30 days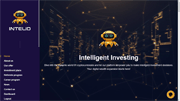 Status: NOT PAYING
Our deposit: $200.00
Payout ratio: 50%
Worked: 25 days
Monitored: 25 days
Minimal spend: $35
Referral bonus: 5%, 2%, 1%*
Withdrawal: Instant
Principal return: Yes, after expiration
Interest charge: Calendar days
Maximal spend: $500,000
Last paid: Nov 23rd, 2023
Our rating:





Users voting: No votes
Support: -
Minimum withdrawal: Bitcoin: 0.00125, Ethereum: 0.0185, Binance Coin: 0.025, Binance Coin ERC20: 0.025, Binance Coin BEP20: 0.025, Litecoin: 0.055, Dogecoin: 40, TRON: 40, Bitcoin Cash: 0.01, Ripple: 6.5, Monero: 0.04, Dash: 0.15, Tether TRC20: 5, Tether ERC20: 10, Tether BEP2: 5, Tether BEP20: 5, Binance USD: 5, Binance USD TRC20: 5, Binance USD BEP2: 5, Binance USD BEP20: 5, USD Coin: 10, USD Coin BEP20: 5, USD Coin TRC20: 5, Dai: 10, Dai BEP20: 5, ePayCore: 0.1, Perfect Money: 0.1, Payeer: 0.1
Description:
INTELID isn not just another cryptocurrency trading platform; it is a commitment to each investor future. Our foundation lies in our deep expertise in the financial markets, our cutting-edge technology, and our unwavering dedication to providing a safe and secure trading environment. Transparency is key to trust. We are an open book, and our certificate of incorporation is available for you to view anytime. Our platform is built with the user in mind, offering extensive resources, real-time market analytics, and 24/7 customer support, ensuring you are never in the dark about your investments.
Payment systems:

ePayCore |

Tether ERC20 |

Tether TRC20 |

Tether BEP20 |

BNB.BSC |
BUSD |

Bitcoin |

Bitcoin Cash |

Litecoin |

Ethereum |

Dogecoin |

Dash |

Tron |

Ripple |

Monero |

Payeer |

Perfect Money
Hyip features:

Strong DDoS protection |

SSL encryption |

Unique design |

Unique script |

Registered company |

Online chat
More information:

InvestorsStartPage |

H-metrics |

AllHYIPMonitors |

HyipMonitors24 |

InvestFilters |

WHM |

Whois Info