Mila Project Details
Investment plans: 3.3% daily forever | 9.9% daily forever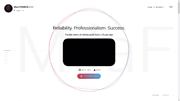 Status: NOT PAYING
Our deposit: $50.00
Payout ratio: 53%
Worked: 14 days
Monitored: 14 days
Minimal spend: $5
Referral bonus: 5%, 1%, 1%*
Withdrawal: Manual
Principal return: Included in earnings
Interest charge: Calendar days
Maximal spend: $250,000
Last paid: Nov 19th, 2023
Our rating:





Users voting: No votes
Support: -
Minimum withdrawal: USD $1.00; USDT $10.00; USDC $10.00; BTC 0.001; ETH 0.01; LTC 0.1; TRX 50.00; DOGE 50.00; BNB 0.01; MATIC 5.00; DASH 0.1; BCH 0.05; SOLANA BEP20 0.5;
Description:
Live freely, and MILA will take care of the rest. Get a steady return on your investment. Indefinitely. MILA is an interactive trading robot that knows how to work efficiently with capital, which in turn allows investors to get 3.3% net profit daily. Its mission is to ensure your continued wealth and financial freedom. Based on artificial intelligence and hosted on ultra-secure servers, MILA can be considered the most reliable passive income tool ever. MILA is an officially registered company in the UK. Registration document number - 14823023.
Payment systems:

ePayCore |

Tether ERC20 |

Tether TRC20 |

Tether BEP20 |

BNB.BSC |

Bitcoin |

Bitcoin Cash |

Litecoin |

Ethereum |

Dogecoin |

Dash |

Tron |

Solana |

Shiba Inu |

NixMoney |

Perfect Money
Hyip features:

Strong DDoS protection |

SSL encryption |

H-Script |

Registered company
More information:

InvestorsStartPage |

H-metrics |

AllHYIPMonitors |

HyipMonitors24 |

InvestFilters |

WHM |

Whois Info