Exbit Project Details
Investment plans: 4.38% hourly for 24 hours | 1.81% hourly for 72 hours | 1.3% hourly for 120 hours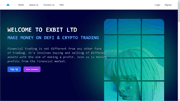 Status: NOT PAYING
Our deposit: $50.00
Payout ratio: 6%
Worked: 4 days
Monitored: 4 days
Minimal spend: $9
Referral bonus: 12%*
Withdrawal: Instant
Principal return: Included in earnings
Interest charge: Calendar days
Maximal spend: $200,000
Last paid: Nov 15th, 2023
Our rating:





Users voting: No votes
Support: -
Minimum withdrawal: Epaycore and PerfectMoney is $0.2, for crypto $5
Description:
Financial trading is not different from any other form of trading. it's Involves buying and selling of different assets with the aim of making a profit. Join us in making profits from the Financial market.
Payment systems:

ePayCore |

Tether TRC20 |

BNB.BSC |

Bitcoin |

Bitcoin Cash |

Litecoin |

Ethereum |

Dogecoin |

Dash |

Tron |

Shiba Inu |

Perfect Money
Hyip features:

DDoS protection |

SSL encryption |

Unique script
More information:

InvestorsStartPage |

H-metrics |

AllHYIPMonitors |

HyipMonitors24 |

InvestFilters |

WHM |

Whois Info