Noxin Project Details
Investment plans: 4.46% hourly for 24 hours | 1.85% hourly for 72 hours | 1.31% hourly for 120 hours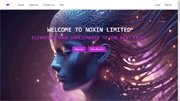 Status: NOT PAYING
Our deposit: $50.00
Payout ratio: 7%
Worked: 3 days
Monitored: 3 days
Minimal spend: $8
Referral bonus: 14%*
Withdrawal: Instant
Principal return: Included in earnings
Interest charge: Calendar days
Maximal spend: $200,000
Last paid: Nov 19th, 2023
Our rating:





Users voting: No votes
Support: -
Minimum withdrawal: Epaycore and PerfectMoney is $0.2, for crypto $5
Description:
NOXIN LIMITED has an extensive experience in the field of cryptocurrencies. Our experts know all about cryptocurrencies. Our knowledge helps us earn money for us and our clients. Here are our main features, what distinguishes us from our competitors.
Payment systems:

ePayCore |

Tether TRC20 |

BNB.BSC |

Bitcoin |

Bitcoin Cash |

Litecoin |

Ethereum |

Dogecoin |

Dash |

Shiba Inu |

Perfect Money
Hyip features:

Strong DDoS protection |

SSL encryption |

Unique script
More information:

InvestorsStartPage |

H-metrics |

AllHYIPMonitors |

HyipMonitors24 |

InvestFilters |

WHM |

Whois Info