Racks Trade Project Details
Investment plans: 102% after 1 day | 110% after 3 days | 135% after 7 days | 150% after 10 days | 190% after 15 days | 275% after 20 days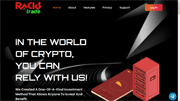 Status: NOT PAYING
Our deposit: $100.00
Payout ratio: 0%
Worked: 2 days
Monitored: 2 days
Minimal spend: $10
Referral bonus: 3%, 2%, 1%*
Withdrawal: Manual
Principal return: Included in earnings
Interest charge: Calendar days
Maximal spend: $1,000,000
Last paid: No payouts yet
Our rating:





Users voting: No votes
Support: -
Minimum withdrawal: 0.1$ for epaycore, $5 for USDT and $10 for BTC, other
Description:
You can make money with Racks Trade without ever leaving your house and without having to take any chances when making decisions. We\'ve created a system that offers three investment plans with fixed passive income guarantees. We\'ve gathered traders with excellent backgrounds and abilities in all cryptocurrency markets. We employ sophisticated, expert instruments that are inaccessible to the general public. You can make a daily net profit up to 275% after 20 days by investing with us, depending on your capital. Due to our full transparency towards investors, we offer the opportunity to cancel and withdraw your deposit at any time. We offer an easy-to-use interface, so you can start your investment adventure in just a few minutes.
Payment systems:

ePayCore |

Tether ERC20 |

Tether TRC20 |

Tether BEP20 |
BUSD |

Bitcoin |

Bitcoin Cash |

Litecoin |

Ethereum |

Dogecoin |

Dash |

Tron |

Ripple |

Solana |

Stellar |

Monero |

Zcash
Hyip features:

Strong DDoS protection |

SSL encryption |

Licensed GC script |

Unique design
More information:

InvestorsStartPage |

H-metrics |

AllHYIPMonitors |

HyipMonitors24 |

InvestFilters |

WHM |

Whois Info