HYIPs which accept WDX
Investment plans: 0.44% - 1.5% hourly for 240 hours | 0.65% - 2.68% hourly for 168 hours | 2.61% - 6.78% hourly for 96 hours | 6.95% - 13.2% hourly for 72 hours | 25% hourly for 48 hours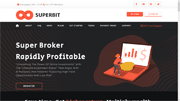 Status: PAYING
Our deposit: $50.00
Payout ratio: 68%
Lifetime: 46 days
Last paid: Sep 21st, 2022
Minimal spend: $35
Referral bonus: 1.5-20%
Withdrawal: Instant
Principal return: Included in earnings
Interest charge: Working days
Super Bit Investment, Safety & Paying Instantly. Multiply Capital From Crypto Investment In The Shortest Possible Time. Our professionalism is obvious to all, we will share 90% of the profits with you, our most loyal and most trusted shareholders, partners, and friends, you will get our super high return on investment because of your trust and ideals, everything is...
Investment plans: 2.1% weekly for 70 weeks

Status: PAYING
Our deposit: $50.00
Payout ratio: 55%
Lifetime: 204 days
Last paid: Sep 11th, 2022
Minimal spend: $10
Referral bonus: 0.5%
Withdrawal: Instant
Principal return: Included in earnings
Interest charge: Calendar days
Our program is intended for people willing to achieve their financial freedom but unable to do so because they're not financial experts. Cryptown is a long term high yield private loan program, backed up by Forex market trading and investing in various funds and activities. Profits from these investments are used to enhance our program and increase its stability f...