Revolvex Project Details
Investment plans: 0.1% hourly for 100 hours | 2.5% daily for 10 days | 300% after 15 days | 1.19% hourly for 168 hours | 3.66% daily for 30 days | 450% after 40 days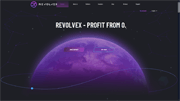 Status: NOT PAYING
Our deposit: $100.00
Payout ratio: 16%
Worked: 12 days
Monitored: 11 days
Minimal spend: $5
Referral bonus: 2-10%, 1%, 1%*
Withdrawal: Manual
Principal return: Yes, after expiration
Interest charge: Calendar days
Maximal spend: $250,000
Last paid: Mar 25th, 2023
Our rating:





Users voting: No votes
Support: -
Minimum withdrawal: USD $1, USDT $10, BTC 0.001, ETH 0.01, LTC 0.1, TRX 100, DOGE 100, BNB 0.1
Description:
Revolvex is an effective and unique source of reliable and stable income by developing and monetizing your own software in various online games. The algorithm is based on artificial neural networks, this gives us unlimited possibilities to use it. Most importantly, it provides sure winnings within the largest online platforms. Constant self-learning makes losing impossible as long as the algorithm calculates every probable outcome in every game, analyzes the information, and predicts all possible outcomes. That is why it always wins. Such successful application of the program in this area makes it extremely attractive for cooperation and project development, so we are always ready for investment and partnership!
Payment systems:

ePayCore |

Tether ERC20 |

Tether TRC20 |

Tether BEP20 |

Bitcoin |

Bitcoin Cash |

Litecoin |

Ethereum |

Dogecoin |

Tron |

BNB.BSC |

NixMoney |

QIWI |
Bank Wire
Hyip features:

Strong DDoS protection |

SSL encryption |

H-Script |

Registered company
More information:

InvestorsStartPage |

H-metrics |

AllHYIPMonitors |

HyipMonitors24 |

InvestFilters |

WHM |

Whois Info